NEW! China Pledges to Stop Building Coal-Burning Power Plants Abroad
Latest News About Huang Ming:
Huang Ming has tirelessly and wholeheartedly been working through various channels in China to make this happen!
This is a great win for the world, China and for our community that is filled with amazing social entrepreneurs. We couldn't be happier that another of our Excellerated Business School instructors is continuing to change the world for the better!
He continues to work on China being green so they stop being the biggest polluter in the world… His endeavors are extraordinary so it's an honor to introduce you to him and the Solar Valley.
Global Excellerated Business School for Entrepreneurs… an extension of the International Micro-Emissions University, Solar Valley, China.
The curriculum is designed to train, empower and educate future Sustainability / Renewable Energy Entrepreneurs
Huang Ming teaches at our Global Excellerated Business School — the next one will be held May 8 – 19, 2024, in Phuket, Thailand
Thank YOU for your visit!
My name is Dame Doria (DC) Cordova and and I am the owner and CEO of the Excellerated Business Schools for Entrepreneurs, Money & You and other Excellerated programs…
I was first introduced to him and this extraordinary work by my entrepreneurial education partner of nearly two decades, Willson Lin of Doers in China. They had met at a large conference where they both had been keynote speakers. Willson said to me, "I can hardly wait until you meet Huang Ming — he is like a brother from another mother…"
Not a usual phrase used in China…  It wasn't until I met him that I really got the essence of what Willson meant. Huang Ming turned out to be an extraordinary man that is truly a "soul mate" on our journey to adding value to as many people as possible.
That was in 2008.
My work for over four decades has been in experiential, entrepreneurial education. I have had the opportunity to meet extraordinary entrepreneurs, billionaires that are not only committed to bottom line profits, they also contribute tremendously to the betterment of humanity. We had the opportunity to have had the great visionary R. Buckminster Fuller teach at our business schools yearly for six years before his passing in 1983.
I have met world leaders, including Fidel Castro, and have had the opportunity to work alongside geniuses… but I had never met such an extraordinary human being as Huang Ming. His genius, commitment, humbleness and purity of Spirit in getting the world to become completely green — to support every "sustainability entrepreneur"anywhere in the world, is one of the most moving and transformational experiences of my life.
I have become a co-dreamer, an ambassador, a partner in his global expansion because his work (and that of his 6,000+ team) is in complete alignment with my purpose: to uplift humanity's consciousness through socially-responsible businesses; and my mission: to transform educational systems around the world and eradicate poverty and hunger…
I couldn't have found a better person and organization to take me on my next journey as I continue to answer the question that Bucky Fuller posed (and we live by):
"How do we make the world work for 100% of humanity, in the shortest possible time, through spontaneous cooperation, without ecological offense or disadvantage of anyone?"
Some of the humanitarian projects that we are currently developing for emerging nations: simple solar cookers http://www.solarvalleychina.com/solar-cookers ; zero-energy toilets for extreme cold weather regions; transferring (and new building) of coal-based heating to solar-heating for schools.
Meet Huang Ming… he is the real thing. He is a billionaire because he is a brilliant solar architect and designer — an engineer and a businessman that has created solar products that are wanted and needed by the whole world…
We look forward to hearing from you.
We'd like to have your information so that as we continue to expand his work, we will keep you posted of the developments.
For those of you who are just starting to learn about renewables — or you are looking for a new career — or you are interested in getting into one of the most exciting industries in the world, we can let you know of the possible different opportunities and information that can be of value to you.
Learning and knowing about renewables today is like hearing about the Gold Rush in 1845! The wave is just starting…
I am so happy for you that you are interested!
Aloha Nui Loa,
Dame Doria (DC) Cordova
CEO / Owner, Excellerated Business School for Entrepreneurs
Money & You Program
http://www.DCCordova.com
Meet Huang Ming
Chairman of Himin Solar Co., Ltd. & Chairman of HIMIN Clean Energy Holdings Co., Ltd.
"I HAVE A DREAM" by Huang Ming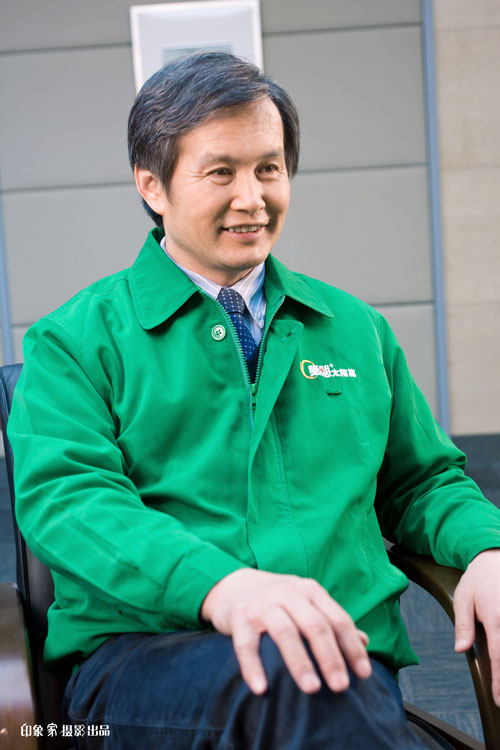 I have a dream of people devoted to renewable energy sources around the world.
For blue skies and white clouds for the next generation.  That truly quality products can be used to realize renewable energy substitution.
I have a dream that one day throughout the whole world, renewable energy sources will achieve a dominant position in the world.
I have a dream that one day all the people in my country, and that all global citizens will know about solar energy alternatives and make full use of them.
I have a dream that one day the solar industry will be as advanced as the IT industry, and as mature as the electric home appliances industry, and as large-scaled and automated as the automobile industry.
I have a dream that one day the sky will be much bluer, the water will be more cleaner and clear; that our homeland will be full of sunshine, be peaceful, with no wars.
I have a dream that one day the next generations will chase each other happily in the bright sunshine and fragrance of beautiful flowers, that a green civilization will be spread to every inch of the Earth. My fellow citizens let us join together, to create the blue sky and white clouds for the next generations, making use of truly quality products to realize renewable energy substitution.
See Huang Ming's presentation on the Solar Valley and his "Dream", and what has become reality… click here for details
Accomplishments:
-Vice-Chairman of the International Solar Energy Society (ISES)
-First Chinese entrepreneur to be invited to speak twice at the U.N.
-Deputy of 10th and 11th National People's Congress of People's Republic of China
-Main proposer of China's "Renewable Energy Law"
-Praised as founder of the "Chinese solar energy industry" by international renewable energy sector..
-In September 2008, successfully elected as Vice-Chairman of the International Solar Energy Society.
-First Chinese leader of the International Renewable Energy Authoritative Academic Institute.
-In September 2010, on the Fourth International Solar Cities Congress, Huang Ming introduced the "micro-emission earth strategy" to cope with two major global problems: energy and the environment.
-Based on his contributions in the field of renewable energy, in March 2007, he was awarded the "China Renewable Energy Award for Outstanding Contribution" by the World Wildlife Federation.
-In 2011, he received the highly prestigious "Right Livelihood Award" in Switzerland.  This was the first time that a Chinese entrepreneur has ever won the award.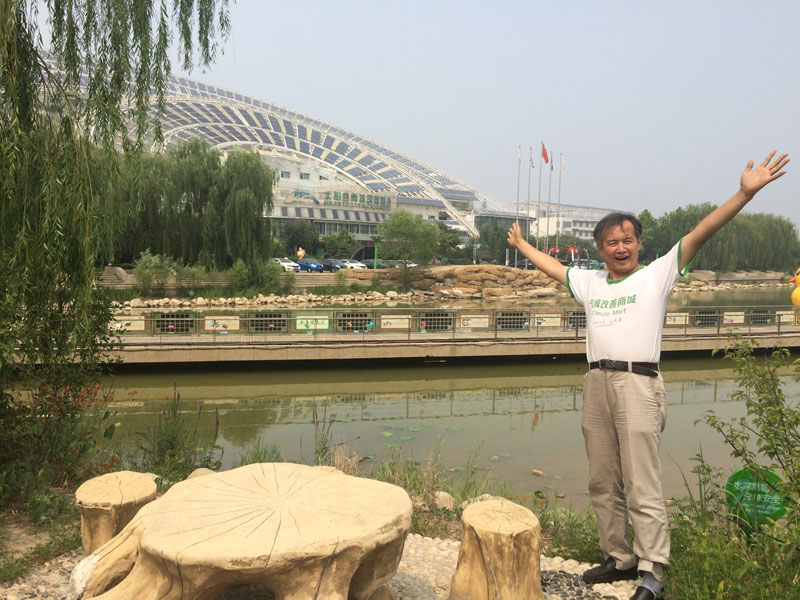 Global Leader of the Fifth Wave
Having created the world's leading renewable energy, science and technology R & D facilities, HIMIN has built two major micro-emission and low-carbon sample demonstration projects: HIMIN Solar Valley – the global urban example for the next 50 years; and Solar Utopia Garden — the global human habitation example for the next 30 years.  During the fourth session of the International Solar Cities Congress in 2010, HIMIN introduced the new concept of "Micro-Emission Earth" regarding energy saving and emission reduction, which will solve the two major global problems:  energy and the environment, gaining the recognition and gratitude of all nations.
Company Profile
Himin Solar Co., Ltd is a global leader in the solar industry. The Himin brand was presented with the honor of being a "Famous Trademark" in China and China's "Environmental Label Product". Its main business includes: renewable energy products such as solar BBQs, solar heaters, PV power and lighting, solar energy solutions seemlessly integrated with architecture, high temperature solar thermal power, Wenping energy-saving glass, solar air-conditioning, and large scale seawater desalination.
At present, Himin has 623 national patents; has undertaken and is participating in 22 Chinese national projects simultaneously, to include  the national "863" project, the national science and technology research program, the state "torch plan" and many others.  Himin owns core technologies such as: interference coating, solar thermal power generation and sea water desalination solutions.  In 2009, Himin proposed a world leading solar technology: Solar 3G which includes many functions such as: adequate hot water, 24-hours supply with all-year-round hot water, and realized creation of a fully-automated solar system which has completely overturned conventional solar systems. Moreover Himin combines solar hot water supply with solar heating and cooling at its optimum, leading the world solar industry into a new era.
Pioneer of World Solar Industrialization
Normally, commerce is treated as being in opposition to environmental protection. The Himin Solar Valley created by Himin Corporation has developed a new approach where commerce and environment coexist harmoniously. It's a win-win proposition for the environment,  industries, and marketing.  Himin completed its industrialized growth in about ten years, while Western countries took 60 to 100 years.  Himin is pursuing solutions for global energy substitution to become the standard for sustainable development in renewable energy worldwide.
In May, 2006, Himin was invited by U.N. headquarters to introduce the Himin model to more than 100 member states.  Because the Himin model provides the world with a great example and model for  renewable energy development, in September, 2008, Huang Ming was elected vice president of ISES and became the first Chinese person to assume the leadership of this world famous renewable energy academic institution.
Himin has attracted great interest from international organizations, and has won the recognition, respect and positive mention of world leaders and global experts in renewable energy to include U.S. President Barack Obama, Swedish Prime Minister Fredrik Reinfeldt, German Chancellor Angela Merkel,  former president of the International Solar Energy Society (ISES) Monica Oliphan, and the President of the European Union.  More than 50 international media agencies have reported on the positive contributions that Himin has made to society, to include: CNN, Reuters, ZDF and Business Week. This reporting has improved China's negative reputation in energy and environmental issues; and it has turned Himin into a respected international brand that has brought it major business from around the globe.
Champion of China Green Energy & Proponent of Environmental Laws 
Leader in Setting Standards for China's Solar & Thermal Applications
Himin's solar testing center was set up in October 1997.  Today 20 Himin laboratories test more than 1000 items from raw materials to whole units.  In January 2009, Himin's testing center passed the CNAS certification and was recognized by the government. It is now considered the national authority testing institute, and it's reporting has been recognized by 45 trading countries to include the U.S., Australia, UK, Japan, Germany and others.